1 minute reading time
(272 words)
Grove Performing Arts Center - Inventing the Right Brace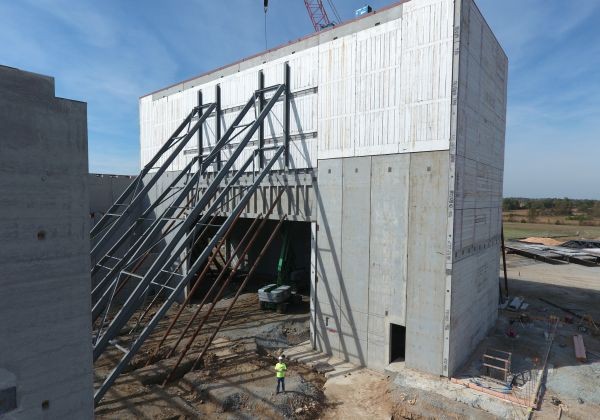 What do you do when you need to brace over 100 tons of concrete panels 70 feet in the air, and the longest standard brace available will only reach up about 45 feet? You design, fabricate and deliver your own custom bracing system!
Needham DBS was hired to design precast concrete panels as part of a value engineering effort for Crossland Prefab & Crossland Construction, Inc. at the Grove Performing Arts Center in Grove, Oklahoma. The project consists of load bearing precast panels for a FEMA safe room (storm shelter), a 1,200 seat auditorium, and a 70 foot tall stage area. Working within practical fabrication, shipping and erection limits, Needham DBS leveraged 3D REVIT modelling to layout almost 160 concrete panels containing over 2,600 embeds coordinated with structural steel, MEP and architectural models. Accommodation for structural framing, mechanical duct openings, architectural reveals and details, even special panel lap details for missile protection in the safe room was all performed in 3D for streamlined coordination and detailing.

Early communication with the contractor and precast fabricator was crucial to coordinate the erection sequence and bracing scheme to temporarily support the panels until all final framing and connections and could be installed. The 55 foot wide stage opening required wide flange beam strong backs and several levels of bracing to support the four spandrel panels until they could be stitched together. Braces consisted of off-the-shelf braces and two levels of custom designed wide flange bracing. Needham DBS was able to complete the precast wall design for fabrication while concurrently fabricating and delivering the custom bracing components allowing the integrated system was able to be safely erected.
Related Posts
By accepting you will be accessing a service provided by a third-party external to https://www.needham-dbs.com/