Steel Joists and Deck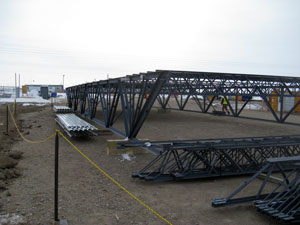 Needham DBS has designed, detailed, and specified Steel Joist Institute (SJI) products and Steel Deck Institute (SDI) products since the founding of the firm. This long term relationship with major suppliers has allowed the firm to become an expert in developing proprietary SJI and SDI solutions. These products are key elements of many building systems and are combined with other Needham DBS products to create a truly efficient and safe building system.


Products include:
Short span steel roof and floor joists
Long span roof joists
Custom super-long span roof trusses
Composite floor joists
Form deck
Wide rib roof deck
Long span roof and floor deck
Composite floor deck
Multiple deck fastening choices
Needham DBS engineers receive all products as they arrive on site ensuring trouble free erection and construction. Needham DBS staff will also act as the special inspector on deck installation if requested.