Structural Steel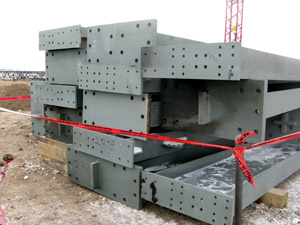 Needham DBS supplies fabricated structural steel products based on proprietary designs developed by our own engineering staff. Once a preliminary design is created, fixed costs are determined by pricing through a select group of AISC certified steel fabricators. By using the CD2 process and internal shop drawing reviews, the delivery schedules can be reduced by weeks.
Since the fabricator can depend upon high quality shop drawings and electronic files, much of the risk is eliminated. Needham DBS, in effect, purchases "open shop time", at very competitive prices, and passes the savings on to the customer. Some of the Division 5 fabrications supplied by Needham DBS include:
Wide-flange columns
Wide-flange beams
Tube and pipe columns
Custom steel trusses
Stepped and bracketed crane columns,
Crane beams and crane rail,
Composite and non-composite floor systems
Tube, wide-flange and angle bracing
Steel stairs
Miscellaneous steel products
Needham DBS engineers receive all steel as it arrives on site ensuring trouble free erection and construction.