1 minute reading time
(251 words)
The Andersons Celebrates Grand Opening of New Headquarters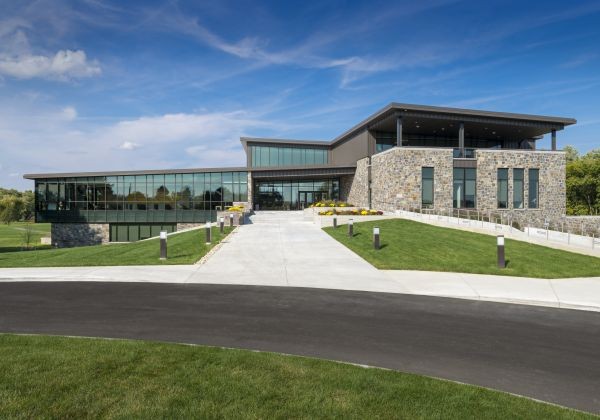 There was excitement and anticipation for the ribbon cutting and grand opening of The Andersons new $54 million Corporate Headquarters in Maumee, Ohio. On October 3, 2016, the wait was over and The Andersons opened the doors to their 128,000 square foot facility. The building emphasizes openness with exposed structural steel members and a large open interior atrium space with an expanse of natural light. The open atrium space was a main design feature that allows better collaboration and interaction between the various divisions within the company. The building also features expansive windows, cantilevered conference rooms into the main atrium space, trading pits and a boardroom with outdoor patio. A common theme utilized in the building was agricultural features such as the use of lighting made from sections of corrugated steel grain silo and reclaimed wood.
Needham DBS was chosen as Engineer of Record after successfully completing work on another Headquarters office with the same architect. Needham DBS worked with the client and the architect, The Collaborative, Inc. to design an expressive open building that integrates the exposed structural steel framing and bracing into the building architecture. Needham DBS created a 3D Revit structural model that was then integrated into the architectural, mechanical, electrical, and plumbing models to provide better coordination, a smoother transition and efficiency in the design, detailing and construction process.
The Andersons provides production, merchandising, and distribution of products and services to the agribusiness community. They are divided into business groups: Rail, Retail, Plant Nutrient, Ethanol and Grain.